Adidas Originals Windbreaker Windbreaker Waterproof
do7ZVwvgvA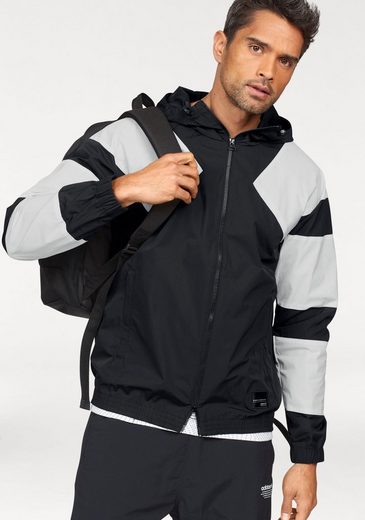 windbreaker adidas originals
water repellent
high-closing collar with zipper and hood
Der Windbreaker von adidas Originals sieht mit den Kontraststreifen entlang der Ärmel cool und sportlich aus. Der untere Saum und die Ärmel schließen mit gerafften Gummizügen ab. Die hochschließende Kapuze kann über einen Tunnelzug in der Weite reguliert werden. Der durchgehende Reißverschluss fügt sich tonig in das Design ein. Die Qualität der lockeren Herrenjacke mit windabweisenden Eigenschaften trägt sich angenehm und funktioniert auch wasserabweisend. Stylischer Look gelingt mit enger Jeans und Sneakers. Funktion trifft Coolness – bei dem Windbreaker von adidas Originals.
hood edge with elastic adjustable

| | |
| --- | --- |
| material & product details | materialzusammensetzung |
| upper: 100% polyester | materialart |
| web | optics |
| plain with color inserts | style |
| athletic | collar |
| high-closing collar | neckline |
| high-necked cutout | sleeve |
| langarm | passform |
| basic | sectional shape length |
| hüftlang | hood |
| With a hoodie | hood details |
| Drawstring adjustable edge with elastic | hooded feeding |
| unlined | applications |
| patches | shutter |
| zipper | special features |
| water repellent | back length |
| in gr. m (48/50) ca. 73 cm | delivery |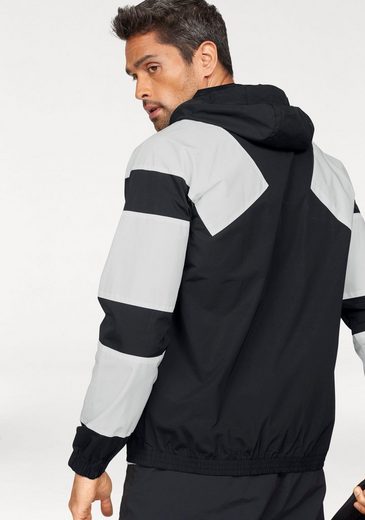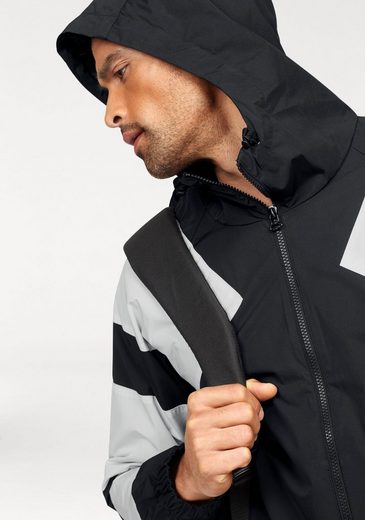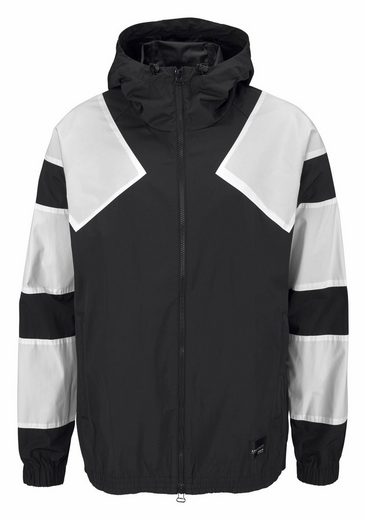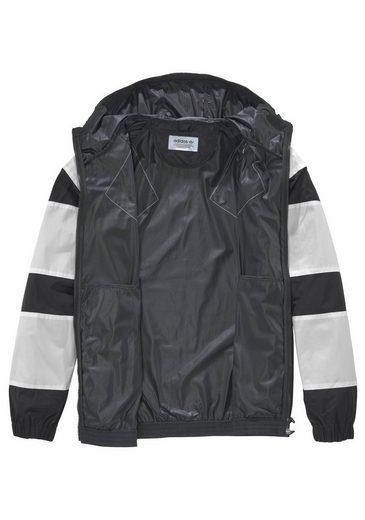 Nobel Prizes and Laureates
The Nobel Prize in Chemistry 1958 Frederick Sanger
Frederick Sanger was born on August 13, 1918, at Rendcombe in Gloucestershire, the second son of Frederick Sanger, M.D., a medical practitioner and his wife Cicely. He was educated at Bryanston School and at St. John's College, Cambridge, where he took his B.A. degree in natural sciences in 1939. Since 1940 he has carried out research in the Department of Biochemistry at Cambridge. From 1940 to 1943 he worked with Dr. A. Neuberger on the metabolism of the amino acid lysine and obtained a Ph.D. degree in 1943. From 1944 to 1951 he held a Beit Memorial Fellowship for Medical Research and since 1951 he has been a member of the External Staff of the Medical Research Council. His present position is Head of the Division of Protein Chemistry in the M.R.C. Laboratory for Molecular Biology at Cambridge. Since 1943 his work has been concerned largely with problems related to the determination of the structure of proteins. These studies resulted in the determination of the structure of insulin. Sanger was awarded the Corday-Morgan Medal and Prize of the Chemical Society in 1951. In 1954 he became a Fellow of the Royal Society and a Fellow of King's College, Cambridge. He is an Honorary Foreign Member of the American Academy of Arts and Sciences; Honorary Member of the American Society of Biological Chemists, Member of the Academies of Science of Argentina and Brazil, Honorary Member of the Japanese Biochemical Society, and Corresponding Member of the Association Qulmica Argentina. In 1940, he married Margaret Joan Howe; they have two sons and one daughter.
From Camel Active Leather Lace Up
, Chemistry 1942-1962 , Elsevier Publishing Company, Amsterdam, 1964
This autobiography/biography was written at the time of the award and first published in the book series Mango Cutting Vdress With
. It was later edited and republished in Nobel Lectures . To cite this document, always state the source as shown above.
Following the work on insulin he developed further methods for studying proteins and particularly the active centres of some enzymes. Around 1960 he turned his attention to the nucleic acids, RNA and DNA. He developed methods for determining small sequences in RNA. The work culminated in the development of the "dideoxy" technique for DNA sequencing around 1975. This was a relatively rapid method and was used to determine the DNA sequence of the bacteriophage f x 174 of 5375 nucleotides in 1977, of human mitochrondrial DNA (16,338 nucleotides) and of bacteriophage l (48,500 nucleotides). The method has been improved and automated in other human genome (3 billion nucleotides). Sanger retired in 1983.
We're confirmed for Tons Of Rock 2017 (Norway)!!! Get your tickets
Well, well, look what we have here! We had such a good time on our last U.S. tour we thought it's time to go back! So it's with great pleasure we can announce our next upcoming North American tour which is scheduled for April and May. We'll be bringing the awesome blues rockers The Dirty Streets with us throughout the whole tour. More dates will be added shortly so stay tuned! See you soon!
ABOUT TIME TOUR 2017 4/07 CHICAGO IL @ REGGIE'S 4/10 DENVER CO @ HI DIVE 4/12 SALT LAKE CITY UT @ METRO MUSIC HALL 4/13 BOISE ID @ NEUROLUX 4/14 PORTLAND OR @ BOSSANOVA BALLROOM 4/15 SEATTLE WA @ HIGHLINE 4/16 VANCOUVER BC @ PUB 340 4/18 SAN FRANCISCO CA @ THEE PARKSIDE 4/20 SAN DIEGO CA @ BRICK BY BRICK 4/23 SAN ANTONIO TX @ LIMELIGHT 4/24 AUSTIN TX @ GRIZZLY HALL 4/25 NEW ORLEANS LA @ SIBERIA 4/26 SAVANNAH GA @ THE JINX 4/27 ATLANTA GA @ THE BASEMENT 4/29 RICHMOND VA @ STRANGE MATTER 4/30 PHILADELPHIA PA @ KUNG FU NECKTIE 5/01 NEW YORK CITY @ WEBSTER HALL 5/02 BOSTON MA @ ONCE 5/04 TORONTO ON @ VELVET LOUNGE 5/05 PITTSBURGH PA @ GOOSKI'S 5/09 CLEVELAND OH @ GROG SHOP
ABOUT TIME TOUR 2017
Good news! We've added a show in Leipzig on the 22nd of March! Tickets: Polarino Softshell Jacket

ABOUT TIME TOUR '17 MAR 16 DE – Hamburg, Logo MAR 17 DE – Siegen, Vortex MAR 18 DE – Düsseldorf, Pitcher -SOLD OUT- MAR 19 NL – Helmond, Cacaofabriek MAR 20 NL – Nijmegen, Merleyn MAR 21 BE – Liège, La Zone MAR 22 DE – Leipzig, Goldhorn MAR 23 DE – Munich, Backstage MAR 24 IT – Fontaneto D'agogna, Phenomenon MAR 25 CH – Pratteln, Z7 MAR 26 AT – Vienna, Das Bach MAR 27 AT – Salzburg, Rockhouse MAR 28 DE – Weiher, Live Music Hall MAR 29 DE – Lichtenfels, Paunchy Cats MAR 30 DE – Berlin, Privatclub MAR 31 DK – Randers, Von Hatten APR 01 DK – Copenhagen, Huset
About Time just entered the Swedish Hard Rock chart as number one! On the Swedish Vinyl Chart as no. 4 and the Swedish Album chart as no. 12. Thanks for the support!
About Time
Horisont is featured in the next issue of Deaf Forever! We also got honoured with the front cover. In stores February 15th.
We'd like to take the opportunity to thank everyone involved. Especially Henrik Jacobson for the amazing artwork, Henrik Magnusson for the superb mixing, Ola Ersfjord for engineering during the recording process and Century Media Records for having us on-board. But most importantly… YOU… all you guys buying our records, coming to the shows and making all this possible!